Up one level
Third Workshop on Story-Telling and Educational Games (STEG'10)
December 10, 2010, Four Points by Sheraton Shanghai Daning, Shanghai, China
Organisers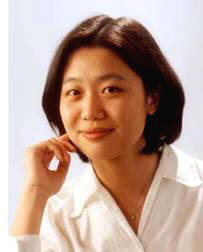 Yiwei Cao is a doctoral researcher at the Information Systems group, RWTH Aachen University. She receives a diploma in computer science from RWTH Aachen University and a bachelor in architecture from Shanghai Tongji University. Her research interests are multimedia community information systems, metadata standards for multimedia, spatial data and cultural information, data uncertainty management, and mobile social software. She works on the research cluster "Ultra High-Speed Mobile Information and Communication" (UMIC) of the Excellence Initiative of German National Science Foundation (DFG).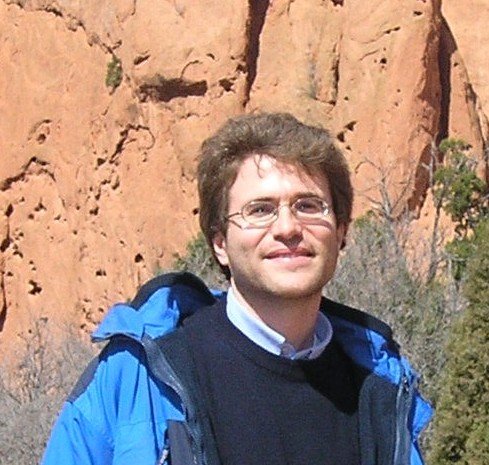 Emmanuel Stefanakis holds a Dipl.Eng. in Surveying, an M.Sc.E. degree in Geomatics and a Ph.D.Computer Engineering. Since 1992, he has been involved in several research projects funded by the E.U., the Canadian Government and the Greek Secretariat of Research and Technology. In 2000, he joined the Department of Geography at Harokopio University of Athens, as a Staff Member. His research interests include Web Mapping and Services, Geographic Information Systems, Knowledge and Database Systems, and Cartography. He has over 40 articles in refereed journals and international conferences in the above areas.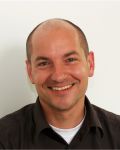 Stephan Lukosch is since 2008 assistant professor at Delft University of Technology. His current research interests include intelligent collaboration support for decision-making, collaborative storytelling and design patterns for computer-mediated interaction.

David Farrell lectures in games design at Glasgow Caledonian University where he is also working on his PhD in Affective Games Based Learning. Before coming to GCal he was a Research Assistant at City University in London, working on the e-Bug project where he created games to teach microbiology to young people in 18 European countries.


Dominik Renzel is a doctoral researcher at RWTH Aachen University. His research interests include Technology Enhanced Learning, multimedia metadata standards, and the evaluation and analysis of mobile multimedia community information systems. Currently, he is working on the EU FP7 Large Scale IP "Responsive Open Learning Environments" (ROLE).
Call for Papers
Early bird registration deadline: Nov 15, 2010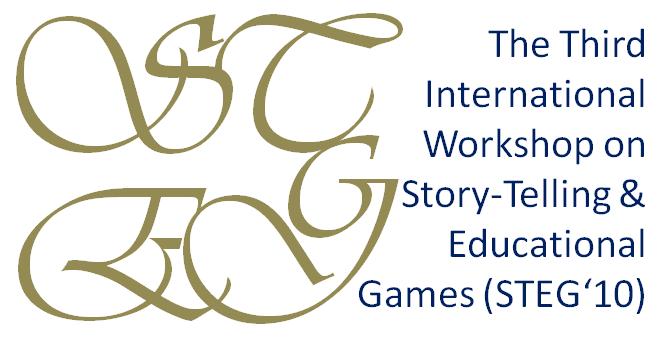 In conjunction with the 9th International Conference on Web-based Learning (ICWL 2010)
Stories and story-telling are cultural achievements of significant relevance even in modern times. Nowadays, story-telling is being enhanced with the convergence of sociology, pedagogy, and technology. Recently, computer gaming is also deployed for educational purposes and has proved to be an effective approach to mental stimulation and intelligence development. Many conceptual similarities and some procedural correlation exist between story-telling and educational gaming. Therefore these two areas can be clubbed for research on Technology Enhanced Learning (TEL). Many facets of story-telling and educational gaming emulate real life processes, which can be represented either as complex story graphs or as interleaved sub-problems.
While the integration of learning and gaming provides a great opportunity, several motivational challenges must also be addressed to ensure successful realization. Non-linear digital stories are an ideal starting point for the creation of educational games, since each story addresses a certain problem, so that the story recipient can benefit from other users' experiences. This leads to the development of more realistic stories providing the kernel for non-trivial educational videogames. These stories cover the instructional part of an educational game, while the game adds the motivation and engagement part.
This workshop aims at bringing together researchers, experts and practitioners from the domains of non-linear digital interactive story-telling and educational gaming to share ideas and knowledge. There is a great amount of separate research in these two fields and the celebration of this workshop will allow the participants to discover and leverage potential synergies.
Program:
| | |
| --- | --- |
| 08:30-08:35 | Opening and Welcome |
| 08:35-09:10 | Educational Gaming Design (David Farrell, Glasgow Caledonian University) |
| 09:10-09:40 | Community Adaptive Educational Games (Clement Leung, Hongkong Baptist University) |
| 09:40-10:00 | Story Telling for Cultural Knowledge Sharing (Cat Kutay, University of New South Wales) |
| 10:00-10:45 | Demo Session & Coffee Break |
| 10:45-11:05 | Educational Game Design for Teaching Chinese as a Foreign Language by Effective Learning Environment, Flow, Motivation (Liming Shan, Huangzhong Normal University) |
| 11:05-11:35 | A Narrative Architecture for Story-Driven Location-Based Mobile Games (Katsiaryna Naliuka, Trinity College Dublin) |
| 11:35-12:05 | Digital Storytelling for Competence Development (Claudia Ribeiro, INESC-ID, Lisboa) |
| 12:05–12:25 | A Story on Internet Safety: Experiences from Developing a VR Gaming Environment (Maria Fountana, Research Academic Computer Technology Institute, Patras) |
| 12:30–13:30 | Lunch Break |
Workshop topics
Theories in story-telling and games
Story-telling and educational game design paradigms
Augmented story-telling and gaming
Story-telling and educational gaming with social software
Mobile story-telling and educational gaming
Cross-media/transmedia story-telling and gaming
Computer gaming for story-telling (Game design for narrative architectures)
Multimedia story and game authoring
Story-telling for creating educational game content
Story-telling and educational gaming applications
Registration
Scientific researchers and industry partners within the story-telling and educational gaming domain are invited to participate in STEG'10. Please use the ICWL10 conference website to register:
http://www.hkws.org/conference/icwl2010/registration.html
Early bird registration: Nov 15, 2010
Submissions
Authors are invited to submit original unpublished research as full papers (max. 10 pages) or work-in-progress as short papers (max. 7 pages) according to the Springer LNCS format (http://www.springer.com/lncs). For camera-ready format instructions, please see "For Authors" instructions at http://www.springer.de/comp/lncs/authors.html. All submitted papers will be peer-reviewed for originality, significance, clarity and quality. Accepted papers will be published as part of Springer LNCS 6537 "New Horizons in Web-based Learning/ICWL2010 Workshops (STEG, CICW, WGLBWS, IWKDEWL)".
To submit your paper please use the STEG submission website hosted at easychair: http://www.easychair.org/conferences/?conf=steg10
Important dates
Paper Submission: October 08, 2010
Notification of acceptance: October 22, 2010
Camera Ready Submission: November 17, 2010
Workshop date: December 10, 2010 (Four Points by Sheraton Shanghai Daning)

Organisers
Yiwei Cao, RWTH Aachen University, Germany
Emmanuel Stefanakis, Harokopio University of Athens, Greece
Stephan Lukosch, Delft University of Technology, Netherlands
David Farrell, Glasgow Caledonian University, UK
Dominik Renzel, RWTH Aachen University, Germany
Program Committee
Alev Elci (Eastern Mediterranean University, Magusa, North Cyprus)
Amanda Gower (British Telecommunications plc, UK)
Anna Hannemann (RWTH Aachen University, Aachen, Germany)
Bailing Zhang (Victoria University, Melbourne, Australia)
Baltasar Fernández Manjón (Complutense University of Madrid, Madrid, Spain)
Carlos Delgado Kloos (Carlos III University, Spain)
Carsten Ullrich (Shanghai Jiaotong University, Shanghai, China)
Christian Guetl (Institute for Information Systems and Computer Media (IICM), Graz University of Technology, Austria)
Cord Hockemeyer (University of Graz, Graz, Austria)
Eeva Nygren (University of Eastern Finland, Finland)
Georg Thallinger (Joanneum Research, Graz, Austria)
Harald Kosch (University of Passau, Germany)
Helen Ashman (University of South Australia, Australia)
Jose Luis Sierra (Complutense University of Madrid, Madrid, Spain)
Manuel Fradinho (Cyntelix, Ireland)
Marc Spaniol (MPI, Saarbruecken, Germany)
Mathias Lux (Klagenfurt University, Austria)
Michael Granitzer (Know Center, Graz, Austria)
Michael Hausenblas (DERI, National University of Ireland, Galway, Ireland)
Michael D. Kickmeier-Rust (University of Graz, Graz, Austria)
Nalin Sharda (Victoria University, Melbourne, Australia)
Pablo Moreno-Ger (Complutense University of Madrid, Madrid, Spain)
Ralf Klamma (RWTH Aachen University, Aachen, Germany)
Romulus Grigoras (ENSEEIHT, France)
Ronan Champagnat (La Rochelle University, La Rachelle, France)
Stamatia Dasiopoulou (ITI Thessaloniki, Greece)
Stefan Göbel (TU Darmstadt, Darmstadt, Germany)
Vincent Charvillat (ENSEEIHT, France)
Werner Bailer (Joanneum Research, Graz, Austria)
Wolfgang Gräther (Fraunhofer FIT, St. Augustin, Germany)